Raw by Nature ApS is an organic wholesale company dealing with retailers and other wholesalers. Our product range consist of specially selected organic, natural and vegan products that meet our desire for high quality and pure life force. Our activities makes it possible for us to engage in projects with high social awareness with the purpose of creating more joy in life and expand the life force for people and for the earth.

We provide people with pure life force by offering organic vegan raw products in their most pure and natural form.
We are motivated by our passion and love for all life on earth.
We want to be among the pioners of commercial companies that has made it a primary dedication to take responsibility for nurturing the life force on earth and the joy of life through conscious action.
We believe the best experiences and results are achieved by being true to oneself and as a leader providing space for emotions through loving care.
Karin and Nicolai are both rawfood enthusiasts with a penchant for raw vegan food made of fresh and organic ingredients.

In 2010 Karin traveled to Hippocrates Health Institute in Florida to participate in a 9-week training as a Health Educator. When she returned to Denmark she discovered, that it was impossible to purchase the primary ingredients she needed to change her lifestyle in the new raw direction she wanted. A key part of Karin's new lifestyle was a diet with fresh green shoots from peas and sunflowers. Two ingredients packed with nutrients and life force.

In her search for the ingredients Karin found a Swedish family-owned company, who had made it their expertise to produce these and other fresh sprouts and shoots. This became the beginning of a dream to bring these ingredients to Denmark and make them available for everyone.
Karin and Nicolai met in 2012, when Nicolai was preparing an organic rawfood stand at the Copenhagen Carnival. Karin supplied the stand with fresh sprouts and shoots and Nicolai and Karin soon discovered they had much in common regarding passion, lifestyle and values of life. They also discovered that Karin's expertise as trained rawfood chef and Health Educator combined with Nicolai's expertise in management and organizational consulting was a good match. It developed into a friendship and professional relationship which in 2014 resulted in the birth of the joint company Raw by Nature ApS. A company with the life purpose of providing people with pure life force.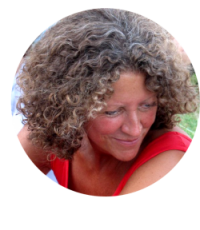 Karin Lauritzen
Karin has the ability to see the best in every person. She is a trained Health Educator from Hippocrates Health Institute in Florida and a certified rawfood chef. She is formerly trained as a teacher and has been teaching for 14 years. Concurrently, she has always been interested in health and has lived for the raw lifestyle since 2009, where raw food gradually became an increasingly greater part of her diet. Her passion for health and rawfood is the vitalizing sprouting seed that has grown into the being of Raw by Nature.
Nicolai Schriver
Nicolai belives that profound value is created from that inner state of being where you feel truly vulnerable and deeply connected to your heart. As a business- and management consultant Nicolai has worked more than 10 years helping businesses developing their organizations and processes with the purpose of creating greater results. His passion for rawfood, healthy living and human wellbeing is the devoted energy that nourishes Raw by Nature to ground and grow.